YR Red-Resurrection 2.1 Released!


YR Red-Resurrection 2.1 Released!
Red-Resurrection Multiplayer Beta 2.1 is here packaged in an easy to use installer! The mod comes packaged with all you need to play including Ares and CNCNet and no longer conflicts with other mods.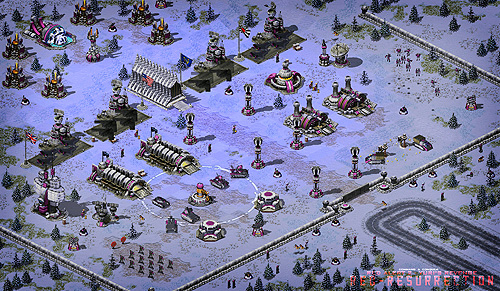 Also Including...
The latest and greatest Ares 0.6 stable release for better performance and new features!
A brand new mod launcher created by Thear of C&C Amnesia.
A new aerial arsenal for the Allied forces.
Re-introduced the Megawealth gamemode with 17 maps to choose from.
An improved AI.
Bugs and balance changes including an overhaul of all weapon ranges.
Improved visuals with a new voxel palette meaning nicer unit lighting and other graphical tweaks.
Download Now
View 2.1 Changelog
Official Website
Official Forums
Installation Help

Release Date and Live Stream Update


Release Date and Live Stream Update
The fourth live stream of Red-Resurrection aired on Friday the 1st of November. It went pretty... well the first half hour was a technical disaster but the latter part more than made up for it! It's been uploaded in a cut down form to only include the sucessful games of which there were some good ones, including Doomhammer's incredible (and frankly unbelievable) victory in a 2v2.

During the stream I made an important announcement, which is the release date. Red-Resurrection Multiplayer Beta 2 will be released on the 11th of December 2013!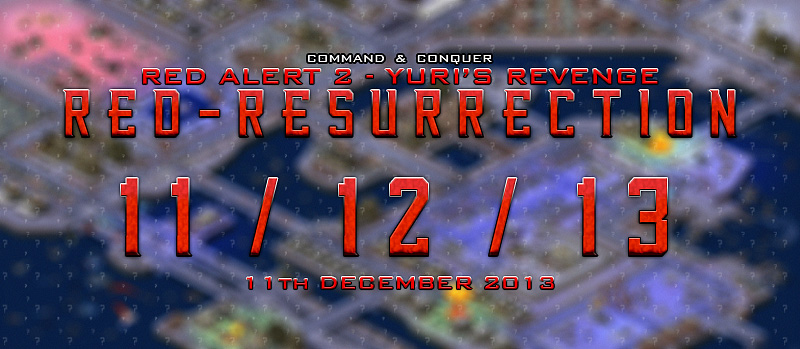 Starting on the 1st of December I'll begin revealing parts of this huge ingame screenshot on ModDB a day at a time. The full resolution is a whopping 6060 x 2640 and features every constructable unit in the mod. Certainly big enough to full up several screens worth.

Below is the 1st November stream on YouTube.
 
Subscibe to us on YouTube to keep up with the live streams and follow Doomhammer on Twitch.tv

So keep watching, starting 1st December things should get interesting. Prepare for resurrection! Or something...
 

Red-Res 2nd Live Stream 27-09-13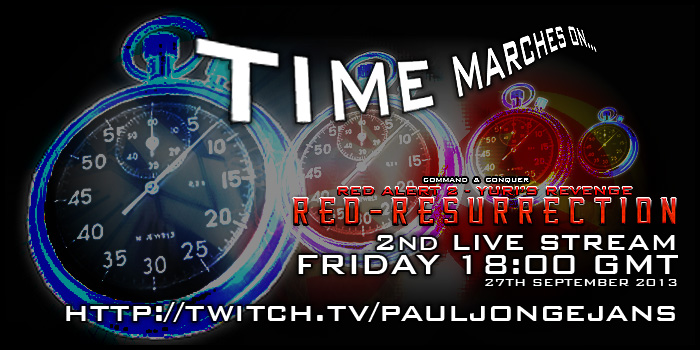 For the second time Yuri's Revenge Red-Resurrection is going to be streamed live by Hecthor Doomhammer on his channel. It will start 18:00 GMT on Friday the 27th September 2013, lasting around 2 hours.

If you want to view the first stream introducing the mod click here.

For more information on the mod here are some links:

Official Website - ModDB - Facebook

Red-Resurrection Live Stream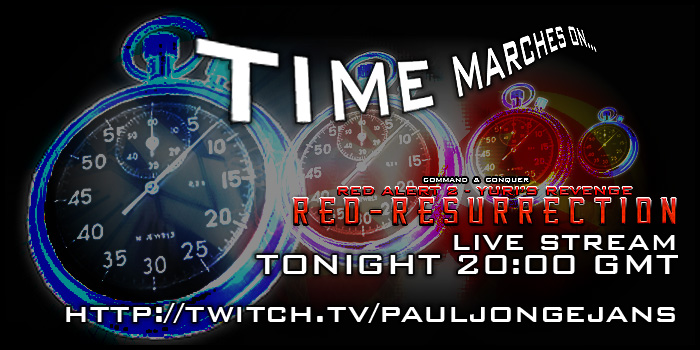 That's Tonight 6th September 2013 at 20:00 GMT, hosted by Hecthor Doomhammer and myself. We'll be discussing the mod while several games are played. Click the above banner to jump to the Twitch channel!
 



[RR] August Update

August Update
As I have been, currently are and will be for the foreseeable future too busy to pay much attention to modding I'm just giving a small update in regards to some small changes to the mod since the initial release.
To start up there is a new Soviet vehicle to replace the Scarab Drone.
The Dust Devil is the new Soviet utility vehicle. It has three turrets: the standard machine gun to take out infantry, a repair arm to maintain damaged vehicles and a rocket battery for none-homing missile barrages. Entering an Engineer into the unit obviously transforms the turret into the repair variant. ANY other infantry types will utilise the rocket pods for low grade siege warfare.
Next up is a new support power for the Allies, replacing the Celestial Airstrike.
The Equalizer is a missile launched from the Science Lab. Upon impact it releases a short range electro-magnetic pulse, disabling most electronic units and structures. As named this can be used to equalize the battlefield if things turn bad or be used to disable enemy defenses during an assault. Be careful however as the weapon will not distinguish between friends or foes!
A change has been made to basic defences, they each now have an anti-tank weapon. The Pillbox uses a light cannon against armour while the Sentry Gun is loaded with armour-piercing rounds.
Multiplayer countries are also being adjusted, here's the new roster.

So that's it for screens. Many balance changes have been made, several units replaced/added and the mod made overall a nicer experience. As was previously posted on ModDB, here are two wallpapers in 1680x1050 and 1920x1080.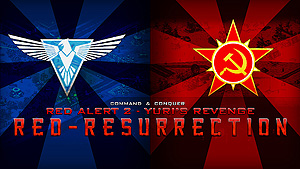 Download: [ 1680 x 1050 ] [ 1920x1080 ]