The mod should NOT conflict with other mods although installing into a clean RA2YR folder is always advisable.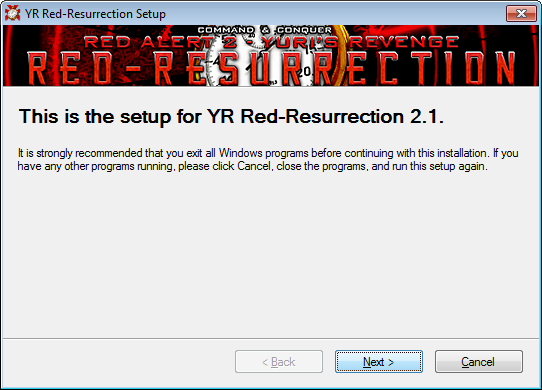 Step 1: Extract and run the installer.
Step 2: When prompted select your desired Red Alert Yuri's Revenge directory and click next.
The default directory is C:\Westwood\Red Alert 2\ with the original game discs or C:\Program Files\EA Games\Command & Conquer The First Decade\Red Alert 2\ with The First Decade compilation. Other versions may vary. The mod will install itself including creating a shortcut on your desktop.
Step 3: Run the Red-Resurrection Launcher to activate the mod. It will automatically run CNCNet allowing you to get online if you wish though the LAN/VPN menu button.
When the time comes to remove it go to your Control Panel -> Uninstall A Program and run the YR Red-Resurrection uninstaller.